Return
HEAL YOURSELF WITH CRYSTALS
CRYSTAL MEDICINE FOR BODY, EMOTIONS AND SPIRIT
by Hazel Raven
Available from all good book stores.
Here is the book crystal lovers have been waiting for,
a beautifully illustrated, practical guide to crystal healing
organized by ailments for easy reference.
It contains step-by-step instructions for powerful and
effective crystal therapy techniques to ease 80 common
conditions affecting your body, emotions, and spirit.
In it you will learn to use crystals to help heal physical ills,
such as headaches, difficulty breathing, fertility problems,
skin conditions, and menopause symptoms. You'll also discover
practical ways to use crystals to help ease emotional problems,
such as mood swings, shyness, low self-esteem, and addictions.
The book also teaches you to use crystals for spiritual empowerment,
such as to open and balance your chakras, develop intuition
and psychic powers, and protect yourself and your home from negative
influences.
This comprehensive book will appeal to everyone interested in using
crystal therapy to release stress, stimulate the immune system,
balance the emotions, and enhance spiritual attainments.
Softback, full colour illustrations, 160 pages
Godsfield Press/Hamlyn
ISBN 1 - 84181 - 263 - 3
Return
£14.99

Table of Contents
Introduction: How to select, program, and care for crystals;
PART I: Crystals to Heal Your Body; Thirty practical ways to
use crystals to relieve physical ailments, such as migraine,
allergies, back problems, sexual problems, weight problems,
and sleep disorders.;

PART II: Crystals to Balance Your Emotions;
Twenty-nine effective ways to use crystals to soothe
emotional conditions, such as depression, bereavement,
mood swings, shyness, guilt, and anxiety.;

PART III: Crystals to Strengthen Your Spirit;
Twenty-one ways to use crystals for spiritual healing,
including balancing and opening the chakras, cleansing the aura,
clearing karma, protection, and angelic attunement.









THE BOOK OF STONES

WHO THEY ARE & WHAT THEY TEACH
by Robert Simmons & Naisha Ahsian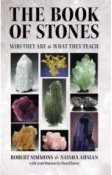 with contributions by Hazel Raven
Return

WANT TO KNOW A LOT MORE ABOUT CRYSTALS ?
The Book of Stones is the newest, most in-depth,
definitive guide to the world of crystals, minerals, gemstones
and their metaphysical properties and energies.

Encompassing over three hundred separate entries,
each with vivid colour photographs and essays by both authors,
this book takes the reader deep into the world of stones and how we
can use them for spiritual awakening and self- healing.

The Book of Stones can teach you about each mineral's
scientific properties, history and lore, elemental energies,
chakra correspondences, and which stones work best together.

Whether you are a complete beginner or an experienced practitioner,
The Book of Stones can give you clear, easy-to-understand
information that will help you enjoy the beauty and benefits of the mineral kingdom.

The pictorial metaphysical encyclopaedia of stones is what crystal lovers all over the world have been waiting for!

Acknowledgements by Robert Simmons.
Special thanks go to Hazel Raven, both for her contributions to the book and for
her pioneering work as a crystal healer and teacher in Great Britain and Europe.

Softback, full colour illustrations, 464 pages
Heaven & Earth Publishing
Return
ISBN 0-9621910-3-5
SACRED HOOP
Issue 54, 2006
THE ANGEL BIBLE
Hazel Raven
Godsfield Press
PB £12.99
ISBN 1-84 181-297-8
Reviewer: Jan Morgan Wood
Do you know if an angel is present? How can you talk to angels? Can angels help you in everyday life?
There is much literature around about angels that either presents these as feathery pets, cloudy comfort blankets or
obedient servants that will automatically do our bidding. In my experience angels are very different.
So I approached a book entitled both 'angel' and 'Bible' with some scientism. I was, however pleasantly surprised.
I did find the contents simple, clearly expressed and easy to use.
It is a mixture of comprehensive information and dip-in workbook, giving ideas on how to sense the
presence of angels and invite them into our daily life. The many simple and safe exercises and meditations
of self-healing and balancing reveal the author's wide practical experience as a complementary
practitioner and healer. The book is attractively designed and produced with many colourful illustrations.
It does have a feminine bias, with only a couple of men in the photo illustrations, and, I found myself wishing
that a wider-range of models had been used - wrinklies need angels too.....but perhaps that's my own years showing!
It is packed with angel lore and history, which is informative and erudite, but with an overall light touch. Is it everything
I ever wanted to know about angels' as the cover promises? Well I found lots of new information and I am sure,
when I want to evoke that connection with angels. It would also make a great gift for anyone exploring not only angels,
but also personal wholeness and empowerment.
THE ANGEL BIBLE
Hazel Raven
Godsfield Press
PB £12.99
ISBN 1-84 181-297-8
Reviewer: Mike Eastwood of AristiA
Angel lore, angel stories, angel advice, and angel wisdom: whether you're seeking guidance, healing,
or inspiration from these heavenly messengers, you'll find it in this splendidly illustrated angel bible.
It's filled with enlightening knowledge: you'll learn about angelic calling cards, messages, and visions,
and discover how to sense an angel's presence, create an angel altar, keep an angel gratitude book,
and meditate and dream with the angels. Find out about angels of many lands and their hierarchies,
and explore the connections between angels and astrology, colors, crystals, essential oils, Kabala,
and the chakras. A quick reference guides you directly to those angels who can offer immediate
assistance and teaches you how to call on them for help in any situation.

Angel Therapy the Complete Practitioner's Guide
Reviewer: Mike Eastwood of AristiA

Every now and then an author will come along and take a subject to another level,
heighten it's understanding and broaden it's appeal. All Angel books after this one
will have to reach high and wide to match this. Hazel has taken Angel therapy to a
whole new level and whether you are curious or a practitioner of Angelic medicine
this is a book that will become used over the years as the reference book on Angelic realities.
Covers all the major Angels with meditations, crystals, layouts, backgrounds and history,
personal experiences from Hazel and so much more.
Return
Available at all good book stores.

Contact us.
Your complete workshop in a book
Author
Hazel Raven
256 pages
ISBN 10:1841813850
Return
Description
This book provides a personalized, practical, experience of the angelic realm.
Going far beyond a reference guide, "The Angel Experience"
is more like a personal tutor, leading you through key concepts and ideas
via inspirational and holistic hands-on exercises and rituals.
Interactive exercises of this book help you to tailor the book to your needs.
Journaling sections allow you to write your own experiences directly into the book.
The step-by-step learning programme guides you to revision work and more advanced exercises.
There is an exclusive CD featuring meditations and inspirational music will bring
you into a receptive state for deeper work. Featuring case studies throughout
that allow you to gauge your experience against those of others, this holistic,
integrated and practical guide is your personal angel workshop in a book.
Contents
Introduction.
A workshop in a book; How to use the book and CD; Recording your insights; Glossary of terms; What are angels? The angel hierarchies; Angels and spirit guides; The nine ranks of angelic beings; Principal angels; The elemental kingdom; Exercises to focus on angels: Exercise 1 - Relaxation; Exercise 2 - Exploring angel energies; Exercise 3 - Angels of the spheres awareness; Exercise 4 Archangel meditation.
Connecting with angels.
Angels and chakras; Chakras and colours; Crystals and the angels; Exercises to connect with angels: Exercise 5 - Chakra awareness visualization; Exercise 6 - Activating your angelic chakra; Exercise 7 - Angelic crystal meditation; Exercise 8 - Angelic alignment using a crystal.
Welcoming angels.
Angel visions; Creating an angel altar, The kabala; Creating an angel prayer; Sound and angels; Angelic Mantras; Temples of light; Exercises to welcome angels: Exercise 9 - Your angel vision; Exercise 10 - Angel altar blessing; Exercise 11 - Tree of life meditation; Exercise 12 - Sound meditation; Exercise 13 - Angelic-temple meditation.
Guardian angels.
Your guardian angel; Your guiding angels; Guardian angels in history; Stories of guardian angels; Planetary angels; Qualities of the planets; Your personal zodiac angel; Exercises to attract guardian angels: Exercise 14 - Journey to meet your guardian angel; Exercise 15 - Guardian-angel collage; Exercise 16 - Celtic angel meditation; Exercise 17 - Finding your zodiac angel.
Angel healing.
How angels can heal; Physical healing; Emotional healing; Spiritual healing; Distant healing; Dream healing; Guidance; Relationships; Exercises for angel healing: Exercise 18 - Healing meditation; Exercise 19 - Visualization to meet Chamuel; Exercise 20 - Visualization to meet Zadkiel; Exercise 21 - Visualization to meet Sandalphon; Exercise 22 - Incubating a healing dream with angelic crystal.
Angels of assistance.
Angelic intervention; Emotional assistance; Times of weakness; Finding your destiny; Assistance in clairvoyance; Finding other Earth angels; Angelic humans; Angelic letters; Exercises to summon angel assistance: Exercise 23 - Angel affirmations; Exercise 24 - Ritual for promoting spiritual growth; Exercise 25 - Meditation for angelic assistance; Exercise 26 - Visualization to meet Muriel; Exercise 27 - Earth angel group meditation.
Taking angel work further
. Developing wisdom; Inspiration; Protection and cutting ties; Spiritual growth; Finding love; Assistance on your life path; Divination; Angel cards; Exercises to take angel work further. Exercise 28 - Visualization to meet Jophiel; Exercise 29 - Visualization to meet Gabriel; 30 - Visualization to meet Michael; Exercise 31 - Visualization to meet Uriel; Exercise 32 - Cloud divination; Exercise 33 - Angel card divination.
Real-life experiences.
An angel vision; The spirit of obsidian; Angelic signature; Sacred sounds; Angel attunement; Web of light; A sign from a guardian angel.
CD tracks.
Track 1 - Relaxation; Track 2 - Activating your angelic chakra; Track 3 - Angelic alignment using a crystal; Track 4 - Angel altar blessing; Track 5 - Journey to meet your guardian angel; Track 6 - Finding your zodiac angel; Track 7 - Visualization to meet Chamuel.
About the Author
Hazel Raven
HRCB FM, ACHO M, IACHT FM, BFVEA M, BFVEA M, M IfL
Hazel Raven
is a well known and respected international teacher and practitioner of complementary therapies with over 35 years experience in this field. Hazel has been clairvoyant since birth and is the author of several books on crystal therapy, angel and Archangel essence healing and has been recognised as a teacher of crystal and gem therapy for many lifetimes. Her books have been translated in fourteen different languages. Hazel currently teaches internationally.
Return